Using our ghost pearls in Epoxy or Water-based concrete and tile sealer
| | |
| --- | --- |
| As we have discovered through our customers, our ghost pearls , metal flakes and candies work incredibly well as a way to make special effects concrete and tile flooring or countertops. We have also discovered that the main company selling pearl additives for concrete sealer is charging $90.00 for a 4 ounce quantity. That is about 4 times the amount we charge (for the same product). We have sold our products to many concrete designers and have had incredible success using our ghost pearls and candy pearl pigments in sealer to create very expensive looking concrete flooring, countertops, and slate tiles. Using our pearls in concrete and tile sealer in various amounts can create a variety of colorful metallic effects that can be very subtle, to very prominent. | |
We purchased some bargain slate tiles from the Home Depot at 1.49 per square foot. I treated them with various different colors of ghost pearls mixed at a ratio of 1 25gram bag per quart of concrete and tile sealer. I used the glossy sealer, but the pearls can also be used in a matte sealer. Let's take a look at the before and after. These pictures were taken in the sun at two different angles, because the colors of the ghost pearls only show up in reflected light. At some angles, the ghost pearls will be invisible.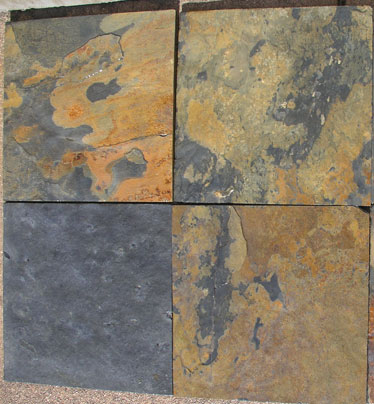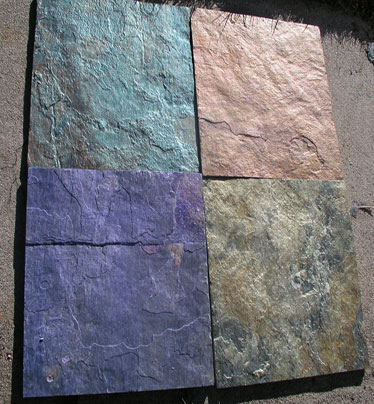 Keep in mind that the camera cannot come close to capturing the shininess of the pearl, but our shimmer ghost pearls are much more reflective than the satin ghost pearls. We used Gold Shimmer Ghost pearl, BLue Satin Ghost Pearl, Red Ghost Pearl, and Green Ghost pearl.

We also added the four different colors of ghost pearl to a single tile, and were able to create very simply an effect that resembled an abalone shell in the slate tile.This was acheived with 4 paper towels, dipped into the 4 different colors of pearl that we mixed with the sealer. I randomly swirled small spots of different colors onto different areas of tile. This was my very first attempt, and it came out awesome, with very little effort.
The great thing about this "abalone shell" look is that it can be done on a large scale after the tiles are laid, but before you put down the grout. Can you imagine what this would look like on concrete countertops? This requires no special tools and can be done by just about anyone. We have seen similar looking tiles sell for over ten dollars per square foot, while we estimate that this effect only adds .10 cents or less per square foot to total cost of the slate tile.* The beauty is, with our bulk discounts, that could mean a much bigger savings for larger flooring areas. At this price, you are adding a degree of luxury that could potentially make a relatively inexpensive floor look incredibly luxurious for a tiny fraction of the cost of expensive tiles. Alo keep in mind that our ghost pearls will never fade, so they can be used in exterior applications as well, and will last as long as the sealer they are mixed with. Some of the most common sealers you will find, like these from Home Depot...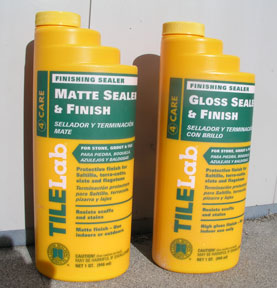 Professionals mostly use Epoxy Sealers on concrete to create that crystal clear glassy surface.
NOTE: OUR PRODUCTS CAN BE USED IN BOTH WATER AND SOLVENT BASED SEALERS! ALL PRODUCTS ON THIS SITE ARE RATED FOR USE IN SOLVENTS.
For concrete, the overall price for goes down even more, and being the first in your area to be able to use our effects could get you some notariety as a custom flooring expert.
Whether you are a do-it-yourselfer, a contractor, or just someone who wants to make really cool tiles and sell them for a profit, our ghost pearls will create an incredible irridescent effect, and if you want a more metallic effect-try our candy pearls for realistic bronze, gold or colorful effects.
Tools: Some rags or paper towels, Concrete and Tile sealer, disposable paint cups, Paint With Pearl Ghost Pearls.
Products, Pearls, Candies, Flakes, Uses, Tips, About Us, Shop Pearls, Shop Candies, Shop Flakes, Candy Color Chart
*.10 cents per square foot is based on 1 gallon of sealer treating 500 square feet of slate tile. Also consider applying the pearls with water prior to sealing!