Reseller's Page

Our products are quickly gaining notariety in the custom painting and the PLASTI DIP world. Many custom painters swear by the quality and ease of workability of our pearls, candies, and metallic flakes. Now the opportunity to resell our products is here. When you sell Paint With Pearl products, you are selling high quality products at a fraction of the price that some of the major manufacturer's ask you to sell them for, and you have a great opportunity to provide a custom-paint or Plati Dip alternative to those clients that are dissatisfied with the costly paints that are available to them. The beauty of our system is that it can be applied to both custom paints and to powder coatings. This gives painters the opportunity to match their paints and powder coats up, without having to guess on a powder coating brand that would look similar to their paints. Our products all come pre-packaged in generous 25 gram bags and will be a perfect match for those who seek a high-quality alternative to the custom paints that they are now reluctant to purchase.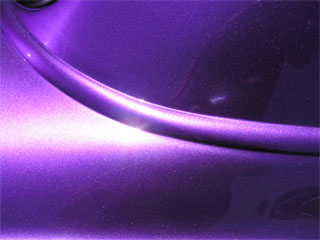 Purple Candy Pearl with a Red Ghost pearl topcoat.

The Profits are yours.
As your order grows, the discounts increase.

With a minimum buy in of $500.00, you will become an authorized reseller of our products. Your discount for your initial order will allow for a healthy profit, while allowing you to price our products to easily compete with the prices offered on our website. Please email us with questions on pricing, and include your company name in the email, so that we may ensure legitimatcy of your company. You may also call directly at 303-725-9637
News
They are here! Chameleon color-change pigments! Now you can create beautiful flip-flop paint jobs with our inexpensive pigments mixed right into your clear coat. Just add 1 level teaspoon of powder to every 4 oz. of clear coat, and spray over a black or dark base coat, applying at least 2 coats, preferably 3. Our friends have seen the colors and they swear them to be some of the most beautiful colors they have ever seen! The color changes with both light and angle. Check it out! If you have any questions, please feel free to email us! Buy 10 of any new True Chameleon Colors and get a color matching model car shape as a sales tool.